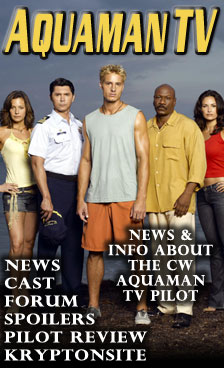 E-mail news tips to PlanetKrypton@aol.com
Aquaman is copyright ©2005 DC Comics. Aquaman appears monthly in comic books published by DC Comics.
Smallville and its characters are copyright ©2005 Warner Bros. & DC Comics. This is a fan site and not authorized by the WB or DC. Page copyright ©2005 KryptonSite, unless the material is noted as coming from someplace else or being by an individual author.
AquamanTV can be reached at AquamanTV.com and is mirrored at MercyReef.net.
NEWS POSTED JANUARY 14, 2006
Pilot To Begin Shooting March 6
The January 20, 2006 issue of Entertainment Weekly has a brief article about Will Toale's Aquaman casting and notes that the pilot is scheduled to begin March 6. The issue is available at newsstands now and features a photo of Toale that we don't even have in our extensive gallery.
Here's what they said, including quotes from series creators Alfred Gough and Miles Millar:
What -- besides the ability to make orange spandex pop -- qualifies an actor to play Aquaman? Let's check in with Smallville co-creator Al Gough, who just signed newcomer Will Toale to star as the King of Atlantis in a pilot he's devloping for The WB. "Like all great WB stars, he comes from the Great White Way," Gough quips of the Streetcar Named Desire vet. "The fact that he's good-looking is just an accident." (Gough and co-exec producer Miles Millar also cite Toale's "warmth, strength, and charm.") But back to the spandex: Toale -- who despite what IMDb.com says, appears fully clothed in his sole film credit, Uptown Girls -- will play twentysomething Florida dive shop owner A.C. (that's Arthur Curry for the Aquaman-lore impaired.) The team starts shooting the pilot March 6, and Gough, who has demonstrated with Smallville that he's undaunted by Big Ideas, promises the following: "If I'm going to give you the pretentious literary influence, it's Henry IV."